Archive for October, 2016
Everybody loves winters! All those weddings, Christmas dinners, New Year parties, fairs, exhibitions, picnics are occasions to dress well and look gorgeous! However, it goes without saying that during winter you need something warm to keep yourself cozy. Here is the catch! Winter wear does not necessarily mean heavy overcoats, mufflers, gloves, and thick shawls that would cover all the stylish Indian garments that you wear underneath. You need to know the trick of styling winter wear with gorgeous Indian attires.
Sweater with Indian wear: While wearing a saree in winter, go for a fitted sweater that would be nicely tucked inside your petticoat. This fitted sweater, preferably in a solid color, is bound to impart smartness and gorgeousness to your appearance, besides driving the cold away. Black polo-neck sweaters teamed up with chunky jewelries look stunning. The same can be done with a lehenga as you can swap the choli for a fitted cardigan or sweater. Leaving the bottom few and top few buttons of the cardigan open will show a subtle midriff and make you look sexy.
Full length jacket: You can team your Indian wear, like saree, with a full length appealing jacket. If carried well, it will look special. It gives a saree a sure-shot red carpet appeal. The lehenga or saree you wear should be kept minimalist, while the jacket would look special if it has some detailed work. The intention is to make the jacket a statement piece.
Short Blazer or Jacket: A waist-length jacket, instead of a normal blouse, would look distinctive with a lehenga, anarkali, or saree. A similar-colored or contrasting jacket in silk or velvet is going to make you look extremely stylish, besides keeping you cozy. The jacket can be of any style you prefer. A Nehru jacket or a formal black blazer with detailed work is going to make you look gorgeous. These would look equally fashionable with Indian suits.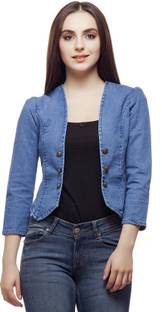 Look stylish this winter by innovatively combining your winter wear with your Indian outfits.
Save
Want to dazzle everybody this Diwali? Try something new! Trying something that you have never tried before is going to be a head-turner. If you can show an ideal juxtaposition of bizarre and beautiful, people are going to notice you!
Jewelry and Fashion Tips for Diwali 2016:
Wear only one statement piece. Or, look modern with the help of simple accessories. Jaded jhumkis, diamond jhumkis, pendants, kadas, balas, or chaand balis are perfect options as these are the cult favorite Diwali jewelries.
Make yourself look special this Diwali by wearing a digital-print dupatta or stole with a plain attire. You can also team a digital-print kurti with a beautiful pair of bangles or with pretty kadas, balas, and hoops for a completely trendy and modern look.
If your dress has an Indo-western appearance, fusion jewellery will work wonders. You can try a combination of jadau, polki, and diamond jewelry with colorful and bright gemstones in eclectic styles and innovative ways as these would successfully add a lot of appeal to any kind of attire.
You can team the perfect top with a stylish palazzo pant. Addition of a wrist cuff or a single earring is bound to make you look special this Diwali.
Try something distinctive and unique. You can try rose gold as it looks brilliant with almost all ensembles. You can also go for a dual tone.
Floral motifs are trendy and look feminine as well as gorgeous. Try bold statement pieces. Illusion setting can attribute jewelry pieces highly, while staying within the budget.
The most important thing to do this Diwali is to ensure that your personality shines through, making you look different from the crowd. You do not have to wear a designer Lehenga-Choli or an expensive saree, just because it is Diwali. You can keep it simple, modern, trendy, inexpensive, and still look unique!
The ethnic wear of India is gorgeous and beautiful. These are the traditional attire and costumes of India worn by the people of the various Indian states, cultures, and religions. These days, ethnic attires are mostly worn on days of festivals, functions, and events like weddings.
Ethnic Wear of Indian Women includes:
Sarees: Sarees are the most popular ethnic wear of India. A saree is instantly associated with India and its culture. A saree happens to be a long and unstitched piece of six yards of cloth that has to be draped in a typical fashion so that it becomes a complete dress. However, women from different states usually drape sarees in different fashions. Often described as one of the most ancient forms of clothing in India, the commonest way of draping it is to wrap the fabric around the waist over a petticoat, make a set of equal pleats in the front, and wear the final length over the shoulder either in pleats or in a stylishly spread way. This formal, traditional, and ethnic wear of India is all about sheer elegance and grace.
Salwar Kameez or Churidaar-Kameez: Another ethnic wear for the women of India include the Churidaar-Kameez or the Salwar-Kameez. Originally from Kashmir and the Punjab, this is presently the most popular among all Indian clothes for women, mainly because it makes the wearer feel free and comfortable while boarding crowded public conveyances. Although modest, practical, and comfortable, a salwar-kameez is extremely stylish and elegant. It is becoming increasingly popular among Western women, as well. Salwar-kameez or churidaar-kameez comes in a wide range of fabrics, cuts, lengths, and colors. However, the dress consists of three components, namely, the Kameez that is worn on the upper part of the body. The word "Kameez" comes from the French word "Chemise" which means a shirt. The other two components are the Salwar or the Churidaar which are two different forms of pants. The "dupatta" is an unstitched length of fabric to be worn as a stole or a scarf.
Ghaagra Choli or Lehenga Choli: A Choli is worn on the upper part of the body. It can be tight-fitted or a bit loose. A lehenga or a ghaagra is a free-flowing skirt, usually with an umbrella-cut. Originating from Gujarat and Rajasthan, these ethnic attires are worn during functions like weddings or religious festivals.
Ethnic Wear of Indian Men includes:
Dhoti: This is a 5-yard-long unstitched cloth that is wrapped around the waist. There are various styles of wearing a Dhoti. A Kurta or a Punjabi or a Shirt can be worn above a Dhoti. Dhotis are usually worn by the groom during his wedding. Priests also wear it while offering prayers.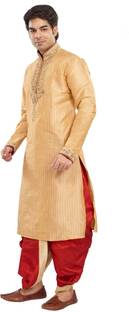 Kurta-Pyjama or Kurta-Churidaar:   This dress is the male version of a Salwar Kameez. Worn during traditional festivals, functions, and events like weddings and thread ceremonies, this is an elegant and charismatic dress for a man.
Each and every ethnic wear of India is beautiful, to say the least. A traditional event in India becomes all the more special due to the attires worn during it.
Flipkart is undoubtedly the most used online retail store in India. It has been proven with the success of its  Big Billion Days Diwali sale which started on 2nd of October and lasted till 6th of October 2016.  The company has reportedly out numbered its main rivals Amazon & Snapdeal in terms of items sold and revenue.
Rohit Bansal, the founder of Flipkart has been closely looking at all the operations of the company. He recently delivered iPhones to customers himself which shows the kind of dedication he has towards the success of Flipkart.
Now the question is:
What sells the most on Flipkart?
According to online communities and research reports, here's the list of Categories/Items that people buy the most on Flipkart:
Mobile phones (Smartphones Mostly)
Phone accessories Like Screen Guards/Earphones etc
Electronics Like Laptops/Cameras/LED TVs
Computer/Laptop Accessories Like RAM, Hard Disk
Electronic games like Xbox
Kids Toys
Backpacks/Travel Bags
Womens/Kids Clothing: Sarees, Kurtis, Tops, Bottoms
Watches, perfumes, Handbags
Home Decor Items
Automobile accessories
Mens/Womens Shoes
Above is the list of items that sell the most on Flipkart but don't consider these to be the only items selling on Flipkart. There are so many categories and products listed on Flipkart and they all get sold at one point or the other.
What is Flipkart Assured?
Flipkart assured items are like Amazon full filled in most ways. Flipkart assured badge that you see often besides a product, guarantees a superior and reliable shopping experience every time.
Who is the best Amazon, Flipkart or Snapdeal?
Here are the stats that say it all:
Flipkart: Facebook Fans: 6,003,189 Twitter Followers: 953 K
Amazon India: Facebook Fans: 5,548,387 Twitter Followers: 378 K
Snapdeal: Facebook Fans: 4,189,625 Twitter Followers: 364 K

From data, Flipkart clearly emerges as the winner here! If you talk about mobile apps of Flipkart, Snapdeal and Amazon India. Flipkart App clearly emerges as the winner here as well! See the stats below:
Flipkart Mobile App Users: 50 Million (Flipkart shopping app is the most downloaded mobile app in India)
Amazon Mobile App Users: 10 Million
Snapdeal Mobile App Users: 10 Million
Flipkart is doing great in all departments of Online shopping be it through its website, mobile app or even customer service and after sales assistance.
Hope we were able to answer your questions pertaining to Flipkart. Kindly let us know if you have more questions. You can always reach us through Facebook, Twitter or our contact us page.
Find us on Twitter here: https://twitter.com/TryCoupon
Like Us on Facebook: https://facebook.com/TryDiscountCoupons
Save
Save
Save
Apple's new phone iPhone7 is all set for delivery on 7th of October at 7 pm sharp. The phone has been available for pre-order booking on Flipkart for quite sometime and is now on its way to reach the owners.
Order iPhone 7 on Flipkart: http://fkrt.it/VfenCuuuuN
Order iPhone 7 plus version on Flipkart: http://fkrt.it/0xIQdNNNNN
Here are the main features of Apple iPhone 7 (Gold, 256 GB):
256 GB ROM
4.7  inch Retina HD Display
12MP Primary Camera | 7MP Front
Li-Ion Battery
A10 Fusion Chip with 64-bit Architecture and Embedded M10 Motion Co-processor Processor
Supports Reliance Jio 4GVolte Network
iPhone 7 is available in Silver, black & gold colour, Gold being the most eye catching is being preferred by the customers.
Apart from iPhone 7 256 gb version which is priced at Rs. 80,000, Flipkart is selling other variants as well and they are:
iPhone 7 32gb priced at Rs. 60,000
iPhone 7 128gb priced at Rs. 70,000
One can also take a look at iPhone 7 plus versions as well, here are the versions and the price:
Apple iPhone 7 Plus (Gold, 128 GB) Price: Rs. 82,000
iPhone 7 Plus 32gb priced at Rs. 72,000
iPhone 7 Plus 256gb priced at Rs. 92,000
Difference between Apple iPhone 7 & Apple iPhone 7 Plus:
The main difference between iphone 7 and iPhone 7 plus is the screen size. iPhone 7 has a screen size of 4.7 inches whereas Apple iPhone 7 plus screen size is 5.5 inches.