Everybody loves winters! All those weddings, Christmas dinners, New Year parties, fairs, exhibitions, picnics are occasions to dress well and look gorgeous! However, it goes without saying that during winter you need something warm to keep yourself cozy. Here is the catch! Winter wear does not necessarily mean heavy overcoats, mufflers, gloves, and thick shawls that would cover all the stylish Indian garments that you wear underneath. You need to know the trick of styling winter wear with gorgeous Indian attires.
Sweater with Indian wear: While wearing a saree in winter, go for a fitted sweater that would be nicely tucked inside your petticoat. This fitted sweater, preferably in a solid color, is bound to impart smartness and gorgeousness to your appearance, besides driving the cold away. Black polo-neck sweaters teamed up with chunky jewelries look stunning. The same can be done with a lehenga as you can swap the choli for a fitted cardigan or sweater. Leaving the bottom few and top few buttons of the cardigan open will show a subtle midriff and make you look sexy.
Full length jacket: You can team your Indian wear, like saree, with a full length appealing jacket. If carried well, it will look special. It gives a saree a sure-shot red carpet appeal. The lehenga or saree you wear should be kept minimalist, while the jacket would look special if it has some detailed work. The intention is to make the jacket a statement piece.
Short Blazer or Jacket: A waist-length jacket, instead of a normal blouse, would look distinctive with a lehenga, anarkali, or saree. A similar-colored or contrasting jacket in silk or velvet is going to make you look extremely stylish, besides keeping you cozy. The jacket can be of any style you prefer. A Nehru jacket or a formal black blazer with detailed work is going to make you look gorgeous. These would look equally fashionable with Indian suits.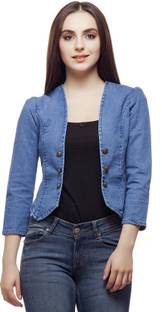 Look stylish this winter by innovatively combining your winter wear with your Indian outfits.
Save