The ethnic wear of India is gorgeous and beautiful. These are the traditional attire and costumes of India worn by the people of the various Indian states, cultures, and religions. These days, ethnic attires are mostly worn on days of festivals, functions, and events like weddings.
Ethnic Wear of Indian Women includes:
Sarees: Sarees are the most popular ethnic wear of India. A saree is instantly associated with India and its culture. A saree happens to be a long and unstitched piece of six yards of cloth that has to be draped in a typical fashion so that it becomes a complete dress. However, women from different states usually drape sarees in different fashions. Often described as one of the most ancient forms of clothing in India, the commonest way of draping it is to wrap the fabric around the waist over a petticoat, make a set of equal pleats in the front, and wear the final length over the shoulder either in pleats or in a stylishly spread way. This formal, traditional, and ethnic wear of India is all about sheer elegance and grace.
Salwar Kameez or Churidaar-Kameez: Another ethnic wear for the women of India include the Churidaar-Kameez or the Salwar-Kameez. Originally from Kashmir and the Punjab, this is presently the most popular among all Indian clothes for women, mainly because it makes the wearer feel free and comfortable while boarding crowded public conveyances. Although modest, practical, and comfortable, a salwar-kameez is extremely stylish and elegant. It is becoming increasingly popular among Western women, as well. Salwar-kameez or churidaar-kameez comes in a wide range of fabrics, cuts, lengths, and colors. However, the dress consists of three components, namely, the Kameez that is worn on the upper part of the body. The word "Kameez" comes from the French word "Chemise" which means a shirt. The other two components are the Salwar or the Churidaar which are two different forms of pants. The "dupatta" is an unstitched length of fabric to be worn as a stole or a scarf.
Ghaagra Choli or Lehenga Choli: A Choli is worn on the upper part of the body. It can be tight-fitted or a bit loose. A lehenga or a ghaagra is a free-flowing skirt, usually with an umbrella-cut. Originating from Gujarat and Rajasthan, these ethnic attires are worn during functions like weddings or religious festivals.
Ethnic Wear of Indian Men includes:
Dhoti: This is a 5-yard-long unstitched cloth that is wrapped around the waist. There are various styles of wearing a Dhoti. A Kurta or a Punjabi or a Shirt can be worn above a Dhoti. Dhotis are usually worn by the groom during his wedding. Priests also wear it while offering prayers.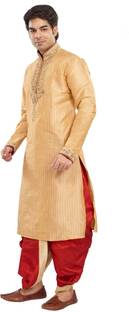 Kurta-Pyjama or Kurta-Churidaar:   This dress is the male version of a Salwar Kameez. Worn during traditional festivals, functions, and events like weddings and thread ceremonies, this is an elegant and charismatic dress for a man.
Each and every ethnic wear of India is beautiful, to say the least. A traditional event in India becomes all the more special due to the attires worn during it.