Coupon Details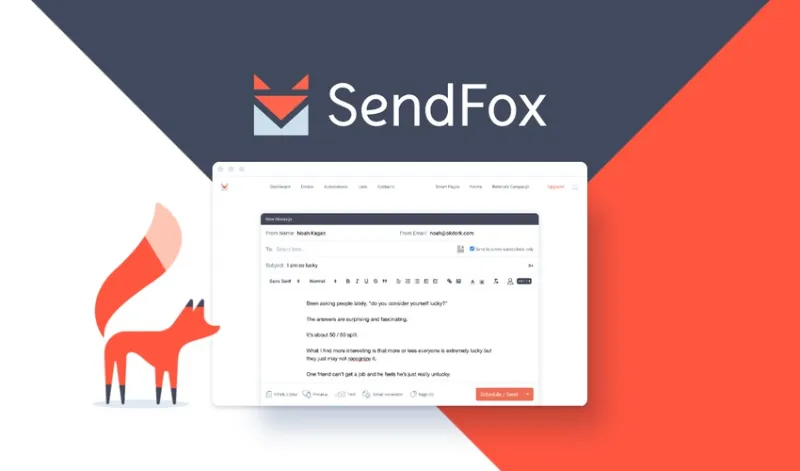 Hey everyone, SendFox, one of the fastest growing email marketing solutions by AppSumo is offering lifetime access licenses at the moment. All you have to do is just pay a small one time fee to claim it. For a 5000 subscribers plan, you just need to pay $49 for lifetime license access.
Here are the tier 1,2 and 3 license plans:
Tier 1
Tier 2
Tier 3
One Time Purchase of
$49.00
$240.00
One Time Purchase of
$98.00
$630.00
One Time Purchase of
$147.00
$1020.00
5,000 subscribers
10,000 subscribers
15,000 subscribers
Isn't it great? If you are looking for the best and cost effective solution for your email marketing requirements, we highly recommend you take a look at SendFox today.
We Believe, you are already paying heavily for the other email marketing tools that you are using, and you are doing that over and over again every month or annually! So, think about it and spend your money wisely.
With SendFox you get all the features that are required from an email marketing at the best price possible.
SendFox Email Marketing Tool Features
The following is a list of features that make SendFox a great email marketing tool:
Unlimited email sends
Scheduled email campaigns at any time of the day
Unlimited triggered automations (with unlimited emails per automation)
Custom landing pages
Custom forms (including GDPR)
Lists and tagging to keep your contacts separated
WYSIWYG email editor to make writing emails easy
Advanced analytics to track opens, clicks, and more
CRM functionality to write notes on each subscriber
Integrations: Sumo.com, KingSumo, Zapier, API, and POST HTML code
RSS feed auto-pull — create email drafts automatically from a RSS feed
View rest of the great features over here.
We have personally reviewed the SendFox email marketing tool and it works really well. Hence, we recommend it to everyone who is looking for an affordable solution to fulfilling email marketing needs.
If you have any questions, please feel free to reach out.
Cheers